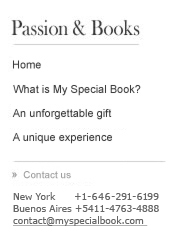 My Special Book is the possibility of creating an incredible Book based upon a story or a topic important for you. If only one person finds it worthy, that is enough for us.

We can help you materialize the famous adage about personal fulfillment that says "Your life is not complete until you have had a child, planted a tree and... written a book."

There are a thousand reasons why unforgettable moments and fond recollections should be immortalized in a book. My Special Book makes that possible.